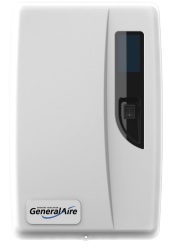 Rogers & Sons, Inc. offers whole house humidifier installation! When winter is upon us and allergy season is on the horizon, a whole house humidifier can provide great benefits to the health and comfort of the people living in your home.
Whole house humidifiers are an energy- and water use-efficient way to ensure proper humidity throughout every room in the home. These humidifiers work with your forced air system to evenly distribute humidity through your existing vents. Whole house humidifiers are a household-wide solution to dry air year-round. A whole home humidifier works in a similar fashion to your furnace, HVAC unit, etc. — the humidifier placed out of sight, like in the home's mechanical room, and distributes humidity intelligently to each room automatically.
The only human intervention required can be done on the easy-to-use control panel, which works just like your home's thermostat. This humidistat can control the humidity in your home at just the touch of a button — a much easier and less cumbersome solution to having standalone humidifiers in every room.
THE BENEFITS OF A WHOLE HOUSE HUMIDIFIER:
Humidity control throughout the entire household, 24/7, 365 days a year
Control your entire home's humidity levels from one place
Fine-tune humidity levels in your home in seconds
Eliminates the need for standalone humidifiers and stays out of sight
A much more efficient humidity solution for larger homes
Minimal maintenance
Why Should I Invest in a Whole House Humidifier?
With improper humidity conditions, allergens and the germs that cause colds, the flu, etc. can remain alive outside the body for longer than would typically be possible. This means that contaminated air and surfaces stay contaminated longer than rooms with proper humidity controls. With whole home humidifiers, you can curb the effects of improper humidity on the health of your home's residents, and make the air more comfortable to breathe and live in the process.
Especially with wooden accents and structures, overly dry or moist air can warp, cause cracks in, or otherwise damage important and valuable parts of your home. With a whole house humidifier, no matter where your wooden structures, furniture, accents, etc. are, you can rest assured knowing they're protected from unnecessary and avoidable damage on account of poor humidity.
Homes with dry air feel colder than what the thermostat might read, which can make it all too tempting to crank up the heat when heat is at its most expensive. Optimal humidity can make your home feel warmer throughout without ever touching the thermostat. This can even help you save on your utility bills, as a lower setting on the thermostat translates directly into less money spent on electricity heating your home.
Dry air can help cause cracks and dryness in the skin, if left exposed and untreated for too long. Better humidity can be an unexpected, but greatly beneficial way to help keep your skin looking and feeling healthy.
Static electricity thrives in dry environments and can make blankets, clothing, and other fabrics uncomfortable or even painful to use. More moisture in the air can help reduce the amount of static electricity you experience in your home.